Chiropractor Kevin Kemp D.C.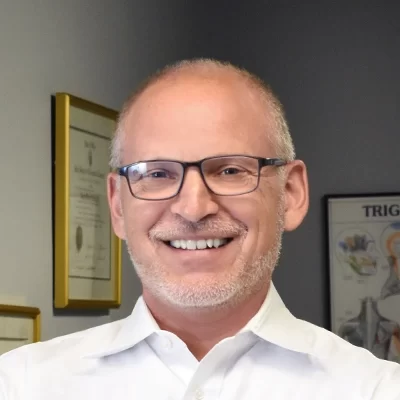 Hi, I'm Dr. Kevin Kemp. I'm pleased to welcome you to our practice. I believe I understand patients because simply put, I was a skeptical patient before I became a doctor of chiropractic.
After an accident in the Air Force, I suffered from headaches for several years. Seeking many different forms of care, doctor after doctor told me it was all in my head. I decided to go to a chiropractor. I did not experience an immediate miracle, but I've seen the headaches disappear from my life. I just wish I had known then what I know now.
I chose chiropractic as a career because I saw such great results in my own life. I found chiropractic to be a great way to help athletes and families alike in a natural hands-on way. If you become a patient in our Columbus, OH chiropractic office, I will explain everything in advance, answer your questions, and communicate directly with you, my patient. I think people appreciate that.
I received my doctor of chiropractic from the Logan College of Chiropractic in St. Louis, MO. I have taken post-graduate specialty courses in x-ray, human biology, diagnosis, and treatment methods that I feel are important for today's physician. I was surprised that the education I received was so intense and thorough, having spent many hours in classwork and clinical study. I especially liked classes in diagnosis and treatment of extremities.
As a chiropractor in Columbus, OH, and an athlete, I find it exciting to help the athletic patient, be it elite or weekend warrior.
The injuries easily extend to all walks of life, athlete or not. We help young children as well as people into their golden years. My entire family benefits from the chiropractic care we provide. My two children, Emma and Claire, are becoming athletes in their own right and need care from time to time to keep them in top form.
My whole family loves to be outdoors. Whether playing sports, camping, or fishing in some of Ohio's beautiful scenery. I also coach several youth soccer teams in my spare time. I am a great lover of the outdoors and when not practicing, you can often find me fishing in a local stream or hiking one of Ohio's beautiful trails.
In conclusion, thanks for visiting our site. if you would like to become a patient in our office feel free to call or email us and schedule an appointment. I look forward to meeting you at our office in Columbus, OH, and helping you improve your overall health. I hope to get the opportunity to meet you in person and discuss your specific health challenge.
Monday
8:00am - 1:00pm
---
Tuesday
3:00pm - 6:00pm
---
Wednesday
8:00am - 1:00pm
3:00pm - 4:00pm
---
Thursday
3:00pm - 6:00pm
---
Friday
Closed
---
Saturday & Sunday
Closed